Welcome to Baby's Boudoir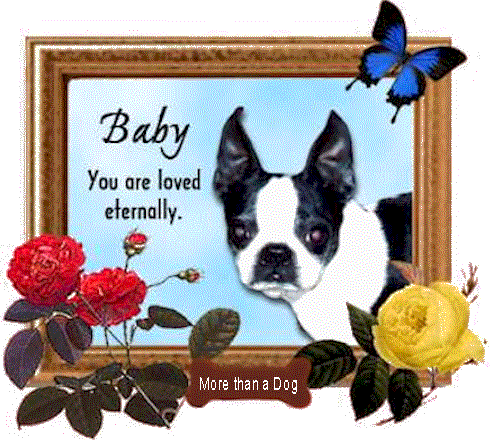 A candle to light your way my love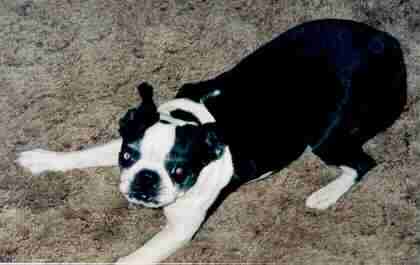 Always remember Sweetie....Mom & Dad Love You!
Rosemary's Baby
February 4, 1992
to
October 4, 1999
Baby was our friend. She never asked for anything but a little bit of love, and to chase a tennis ball now and then. She loved to go for car rides. Her all time favorite thing to do, was sitting with Dad in his chair, arguing over who was going to get the biggest share of it. She usually won. This is very difficult to write. It has been over nine months now since she passed away, and I still think of her daily. I wanted to let everyone know.... PLEASE, DO NOT TAKE YOUR DOG FOR GRANTED! It's so very easy to do. You work all day, and they try to amuse themselves while your gone, but your companionship is the only thing they really crave. Hug them often, and play with them regularly. They deserve at least that much from you. The return investment is ENORMOUS!
PLEASE GIVE THEM AN EXTRA HUG IN BABY'S NAME. She would really like that, 'cause she liked hugs.
"It's just a dog" my friends all say
"They come when called, they sit, they stay";
That's just not so, there's more she gives
She's my friend, companion, my reason to live;
She's loyal, and loving, and cares for me
She's my Friend, my Boston, my Family.
Author: Kim Bass

Baby had gotten in the middle of a fight. Not realizing she had internal injuries, we lost the best friend we have ever had on October 4, 1999. Baby is now quietly resting in my rose garden in her favorite nap spot right between the yellow and the red rose bush. The sun always hits it right around 9am and doesn't leave until after 4pm. We buried her in a decorative wooden box that Dad got for Christmas (I believe it was a gift to him from Baby). She has her favorite tennis ball, and her pink squeaky toy, and I made sure there were two cookies in there with her right by her head. She is wrapped in two of my small linen tablecloths, one has a little puppy on it, and one has a woman baking cookies, I thought she might like those. On October 10th, we framed her grave with a small log style fence, Dad says that it's tall enough to protect her, but not so tall that she can't easily jump out to keep guard or go visiting whenever she wants. We then covered the area with white marble rock, and I found a small Precious Moments angel statue to watch over Baby. There's not a day that goes by that I don't think of Baby. Her memorial picture is on my computer, and we have numerous pictures of her throughout the house as a reminder of what a beautiful little girl she was. Baby's granddaughter was born on October 28, 1999. I have a very dear friend who told me after Baby died that she would pray to St. Francis Assisi who is the patron Saint of animals. We named this little one "Baby's Shooting Star of Assisi". Star joined her Grandmother on November 9, 1999 and now rests beside her in our backyard. Baby's beloved mate Fred visits her grave often on summer days (laying by her side in below photo)
We Love You and Miss You Dearly Baby!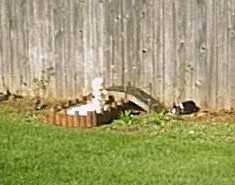 You think that dogs will not be in heaven?
I tell you, they will be there before any of us.
Robert Louis Stevenson (1850-1894)
Just this side of Heaven is a place called Rainbow Bridge. When an animal dies that has been especially close to someone here, that pet goes to Rainbow Bridge. There are meadows and hills for all of our special friends so they can run and play together. There is plenty of food and water and sunshine, and our friends are warm and comfortable.
All the animals who had been ill and old are restored to health and vigor; those who were hurt or maimed are made whole and strong again, just as we remember them in our dreams of days and times gone by. The animals are happy and content, except for one small thing: they miss someone very special to them who had to be left behind. They all run and play together, but the day comes when one suddenly stops and looks into the distance. The bright eyes are intent; the eager body quivers. Suddenly he begins to break away from the group, flying over the green grass, his legs carrying him faster and faster.
YOU have been spotted, and when you and your special friend finally meet, you cling together in joyous reunion, never to be parted again. The happy kisses rain upon your face; your hands again caress the beloved head, and you look once more into the trusting eyes of your pet, so long gone from your life but never absent from your heart.
Then you cross Rainbow Bridge together. . . .
I pray to God daily that this is so, and look forward to seeing my Baby again!
This beautiful drawing of Baby was done by a very young man named Bobby Bauder. Bobby has been around Boston's since he was a baby, and his love for them shows in every pencil stroke he takes. If you click on the drawing, it will take you to his website.
The following has been listed on Baby's webpage since it's inception in 1995, and has almost become her "trademark". As such, I am leaving the following paragraph and pictures not only in her memory, but in memory of all the other Boston Terrier's that have crossed over to Rainbow Bridge:
Hi, my name is Rosemary's Baby. I live in Vancouver, Washington with my Mom and Dad, along with 3 other Boston Terrorists (Mom said that's a synonym for us), named Freddy Krueger (my mate), Devilish Daphne (my daughter), and Lucy Fur (she's not of my bloodline, but her attitude could be!)

I would like to point out, that Boston Terrier's DO NOT chew on furniture, we DO NOT chew on shoes, we DO NOT chew on papers that humans stupidly.....uh.....accidentally leave on a low table, we DO NOT have accidents in the house, we DO NOT snore, we DO NOT bark at humans incessantly when they won't play with us, and MOST OF ALL we DO NOT rumple the bedcovers and burrow under them after they are freshly made!
Gremlins do it!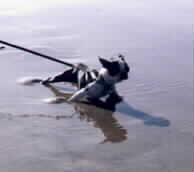 This is a picture of me at the ocean.
There was SOOO much water! and
it was noisy too! Good thing Dad had
a good grip on the leash (I was only
trying to lead him to safety!) I sure
hope we don't go back there again!

Life just wouldn't be complete .
without a good long squirm
about on the carpet! It gets rid
of all the itchy's you know. You
really should try it yourself sometime!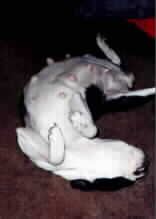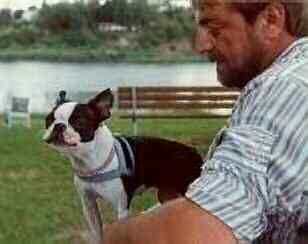 Baby & her beloved Daddy
Link to Baby's Dogstar~~GONE TO DOG STAR-BUT NOT FORGOTTEN
This is one of the most beautiful and supportive sites I found on the web. They also offer a ceremony for special needs pets: Baby's Memorial Listing ~~PET LOSS GRIEF SUPPORT AND CANDLE CEREMONY
Mishiwahr's Den~~This is another very nice memorial site with several links to other supportive sites
This poem was recently sent to me, and it so suited things that Baby would do, I felt compelled to place it on her page. Possibly it will offer comfort to others that have recently lost their beloved Boston:
A DOG LOVER'S POEM

I stood by your bed last night, I came to have a peep.
I could see that you were crying, you found it hard to sleep.

I whined to you softly as you brushed away a tear.
'It's me, I haven't left you, I'm well, I'm fine, I'm here."

I was close to you at breakfast, I watched you pour the tea,
You were thinking of the many times your hands reached down to me.

I was with you at the shops today, you're arms were getting sore.
I longed to take your parcels, I wished I could do more.

I was with you at my grave today you tend it with such care
I want to reassure you that I'm not lying there.

I walked with you towards the house as you fumbled for your key,
I gently put my paw on you, I smiled and said 'It's me.'

You looked so very tired and then you sank into a chair,
I tried so hard to let you know that I was standing there.

It's possible for me to be so near you everyday
To say to you with certainty , 'I never went away.'

You sat there very quietly, then smiled, I think you knew
That in the stillness of that evening I was very close to you.

The day is over ... I smile and watch you yawning
and say , 'Goodnight, sweet dreams, God bless,
I'll see you in the morning.'

And when the time is right for you to cross the brief divide
I'll rush to greet you and we'll stand together side by side.

I have so many things to show you, there's much for you to see.
Be patient, live your journey out
Then come home and be with me. "
Anonymous

E-Mail Me
Click here to return to Widget Boston's