A Special note from Mom
On May 13, 2002, I set my selfishness aside, and my beloved Fred was sent to Rainbow Bridge. Freddy K was my first Boston, my first love, and my best friend. He is dearly missed, and will never be forgotten...
To my beloved Freddy K. Forever yours, Mom
Freddy Krueger
November 17, 1990 - May 13, 2002
My Final Gift
That dear sweet face, those big brown eyes,
that smooshey pushed in nose,
That lilting, whining, growling bark
when someone grabbed your toes.
The way you cocked your head at me,
and understood each word,
The sometimes loud and rumbling snore,
heard all around the world.
And when the other kids would leave the
toys out in the rain, You brought them each
in one by one, ignoring all the pain.
These memories I'll keep with me,
forever in my heart,
But now's the time to say goodbye,
that we must be apart.
Your sightless eyes will see again,
your limbs will move with ease,
No longer will you stumble
and be forced on to your knees.
Your suffering now is at end,
your love was just and true,
It's time to hear the angels sing,
my final gift to you
I have but one last task for you,
I beg of you my friend,
Please wait for me at Rainbow Bridge,
we'll cross together then.
Author: Kim Bass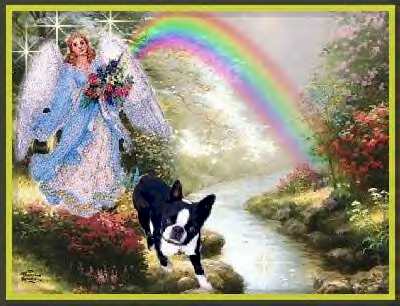 Thank you Arlene for this wonderful picture.
Kim