Pedigree of Widget's Precious And Few
aka ~ ZuZu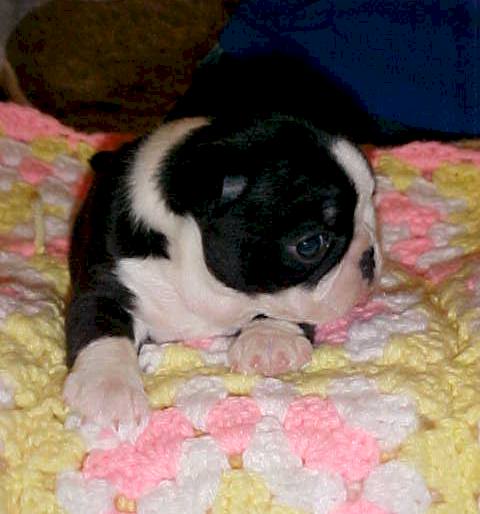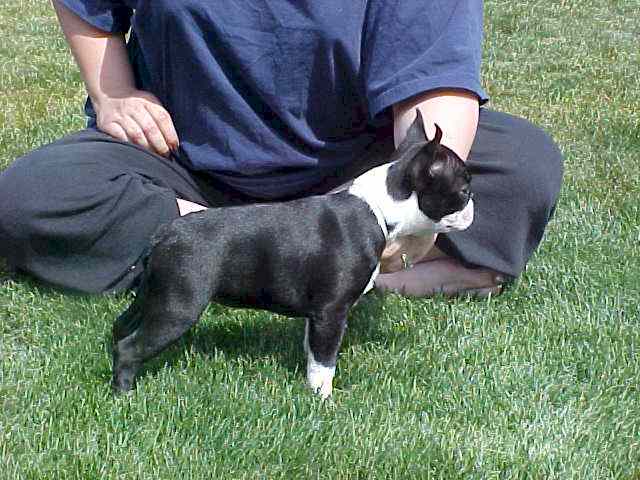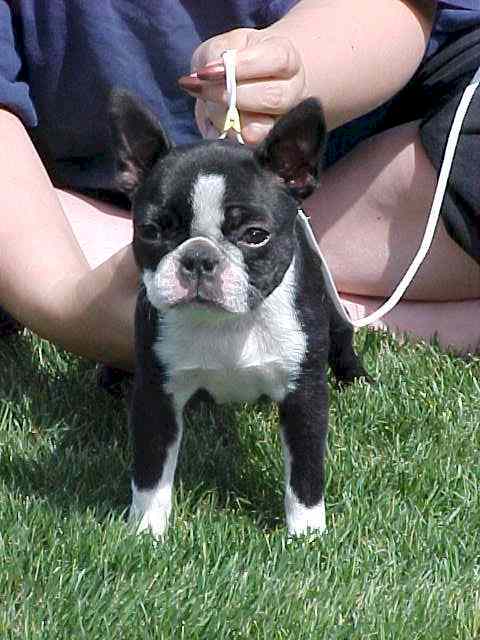 Like her mother, Emmy, ZuZu just kind of stopped growing, and at 9 lbs soaking wet, she just couldn't seem
to attract the judges eye for those elusive majors. She did, however, produce 3 amazing puppies, one of whom finished
his AKC Championship in a mere 9 shows. Check Mr. Jingles page (CH Widget's What About Bob?) to meet
ZuZu's one and only son! Her other 2 puppies were girls, one lives in Tallahassee, Florida and has/is working on her
agility titles (all 9 lbs of her), and other is the indubitably divine Ms. Baby J.
ZuZu now lives the life of luxury down in Eugene, Oregon with an amazing couple, Phil & Diane. They have
become two very dear friends, and I consider them family. ZuZu, of course, now ignores her
old 'mom' when she sees me... which is as it should be!
AKC #NP12585001

Whelped February 14, 2006

Black & White

BAER tested hearing 04/11/2006

Parents

GrandParents

G-GrandParents

G-G-GParents

G-G-G-GParents

Apogees Lil Cubby
(Sire)

Apogee's Lord Butchwick

CH KC's Northern Gladiator

CH KC's Ditto Mark

CH Zodiac's The Challenger

CH KC's Little Bit Of Sun And Water

CH KC's Crowd Pleaser

CH Gabriel's Lil Bon Joevee (ROM)

KC's Dinah Won't Your Blow

CH Apogee's The Gathering

CH Apogee's Brave Sir Robin CD

CH Jeneill's Aire Jordon

CH Do-Go Rocky Mountain Hi 'O BJ

Apogee's Lil Miss Freckle

BISS CH Beacon's Buddy Of Apogee

CH Apogee Boss's Cameo Edition

Super Mite's Gracie Em

CH Edibob'super Colider O'buddy

BISS CH Beacon's Buddy Of Apogee

CH Do-go George's Buddy Of Rudy

CH Beacon's Tiny Darling

CH E-D-Bob's Sunwood Jodi

CH Sunwood's Winning Ticket

Sunwood Fancy That

Dina-Mite's Lady Zoe

Rambo Xxii

CH Sunwoods California Boy

Sunwood's Fascination

Jay Jay's Stormy Lady

Bandit Kid Fortune

Holman's Misty Velvet

Widget's Emerald Edition
(Dam)

CH Advantage-Apogee

CH Apogee's He's The Boss

CH BJ's Beau Geste

CH Zodiac's Special Beau

CH BJ's Cristy Blue

BJ's Do-Go Hello Dolly

CH Do-Go George's Buddy Of Rudy

Do-Go Lady Dori Of Ra-Lyn

Apogee's First Amendment

CH Sunwoods California Boy

CH Alexander Star Reward

Sunwood Cupie Doll

Apogees This Ones For U Rudy

CH El-Bo's Rudy Is A Dandy

Nan-Cors Sunshine Of Showbiz

Jo's Tera Anniversay Edition

Rocky Road Delight

B-Y's Summer Sizzler

Rockroyal Flashaway Cody

B-Y's Perfection's Gold Piece

Top Brass's Perfect Harmony

CH Apogee's GI Joe

Dunbar's Special Delight

Ravenwood's Zipper

Sir Dudley Of Ravenwood

Domino If You Please

Arizona's Belle Star

Brittany Hotchkiss

Domino Rebel

Cowgirl Bridgit