Introducing...
Widget's Little Deuce Coupe
aka Leo
BAER tested Bilateral Hearing January 20, 2007
Leo is from a breeding I waited 3 years to produce, by combining the outstanding pedigree's of CH Widget's Rev'In My Engine and San-D's Hi-Class Sweetheart. I'm happy to say I proved myself correct in waiting this time, as the end result was a puppy that received the very best from both bloodlines.
Leo is commonly referred to as the HEATHEN. He is one of the most adorable, cute, comical, and OBNOXIOUS puppies I've ever had the pleasure to breed. If he wants out of his crate (always), he barks. If he wants in the house (always), he barks, if he's hungry (always), he barks. If he wants a toy to play with (always), he barks. And if he just plain doesn't get HIS way (always), he barks.

Anyway... HEATHEN'S story...

When he was 3 days old, I brought him in to have his dewclaws removed. I spotted a little dot of blood on his right paw, and thought maybe Sweetie had hurt him, so told Eric to check it out. Come to find out, he had the most minute strand (almost hair thickness) of string wrapped around his tiny paw right at the lower part of the pastern. We're not even sure when this happened, but it cut off the circulation to his paw. We didn't know for almost 4 weeks if the toes or even his whole leg could even be saved. After having this HUGE cast on his little leg for 4 weeks, taking massive amounts of antibiotics, and daily wrap changes with an antibiotic powder, we DID manage to save the toes (for the most part). His outside little toe has stopped growing, and the other 3 toes have a very "flexible" feel to them. Almost like there's no bone or knuckle in there. He walks on it wonderfully, but the 3 toes that ARE growing now spread apart quite a bit, and the one closest to the toe that isn't growing rolls upwards occasionally. I don't know if it will affect his gait or not yet, but have hopes that it won't. If his gait isn't affected, I may still be able to show him, though it will likely be a challenge to finish him. He's a gorgeous little guy, and if I petted him out, as I said, I would lose a breeding that I've been waiting 3 years for. Sweetie can't be bred again (the E-vet for her first litter did a total hatchet job on her), and other than Meridith's boy Aramis, I would lose Sweetie's bloodline forever.
Leo at 3 days old...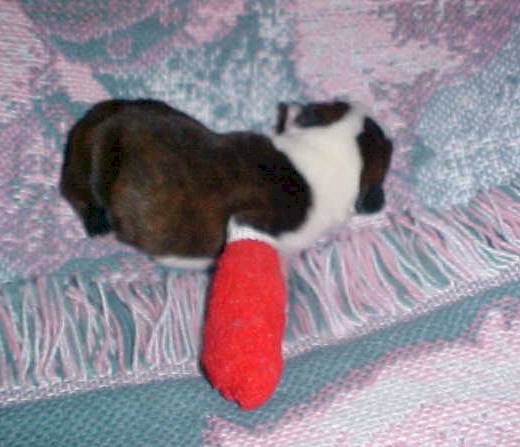 5 weeks old...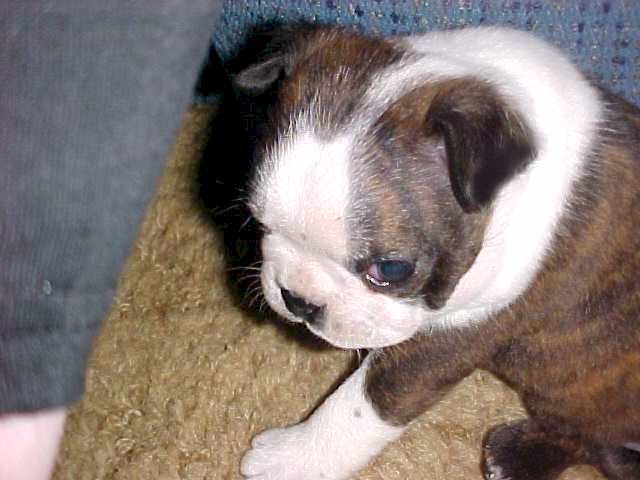 3 months old...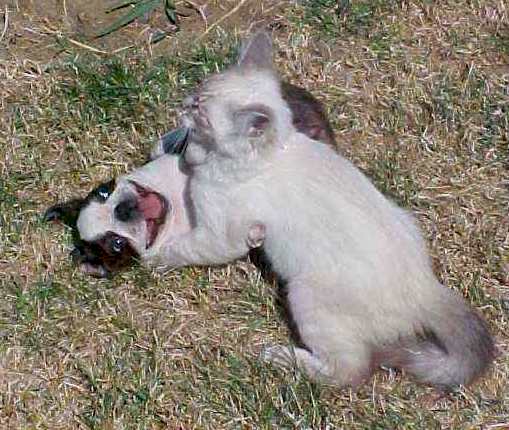 4 months old...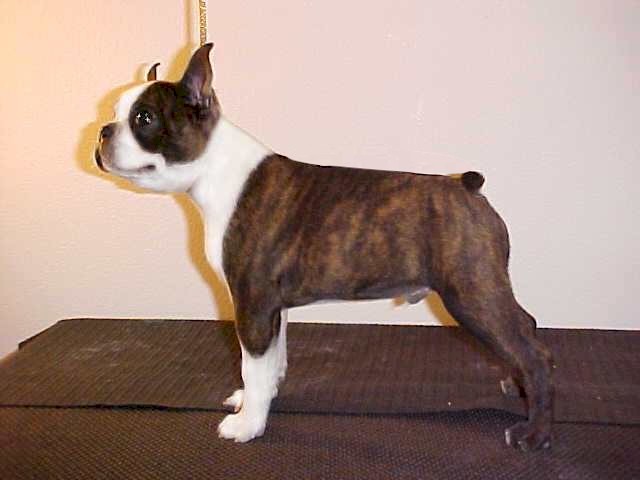 Leo's first show was in Salem, Oregon, at the Willamette Kennel Club show. Saturday, he placed a mere 2nd in his class (of 2), but on Sunday, Leo did me proud. He won what few dogs have achieved, and took Best of Breed/Best of Winners from the 6-9 month puppy class, in spite of his injured foot. I am happy to share now with you, the official win picture of this outstanding "wild child", where he notably took this first win (a 4 point major no less!) from 4 dog Special's, including the #2 Boston in the US...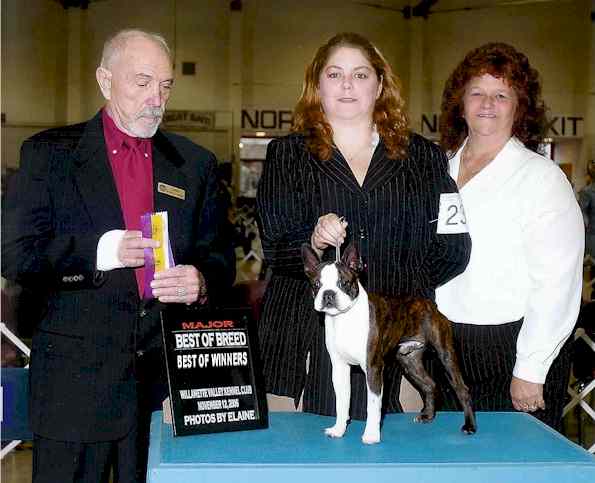 A special Thank You to Dr. Roger S. Pritchard for seeing Leo for the winner he is!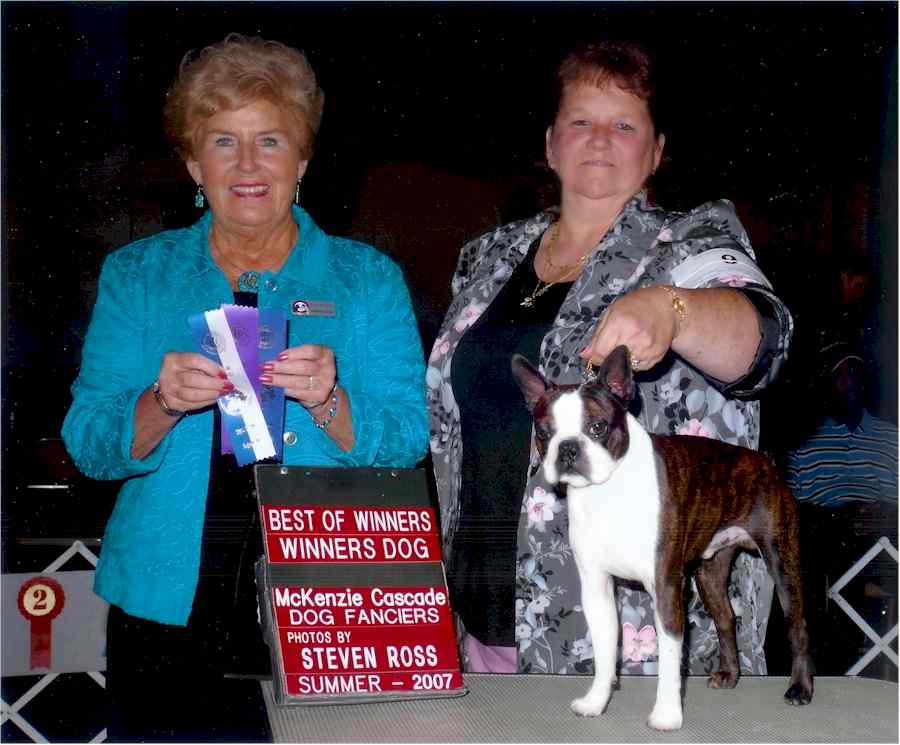 Judge Toddie Clark giving Leo BOW at the Mackenzie Kennel Club show (2 points)
Click here for Leo's