Jo's Tera ~ Anniversary Edition Tera was born on October 5, 1999,
my 25th wedding anniversary, hence the "Anniversary Edition".
At 9 weeks old in the above picture, she weighed a whopping 4 1/2 lbs.
Tera loves her Dad almost as much as she does tennis balls.
Personally, I think it's so she can keep an eye out for crumbs.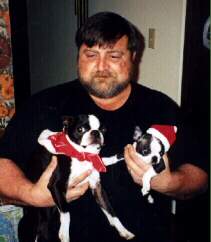 The biggest problem I had with Tera, was her wish to continue nursing on my other girl Daphne, who had a litter that was 2 weeks older than her. But through trial and error, she eventually learned that awful "N" word!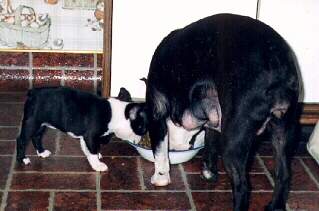 This was Tera's first Christmas with us, and we of course had to do as all new puppy owners do... the stupid dress-up tradition! I don't think she's looking forward to Halloween.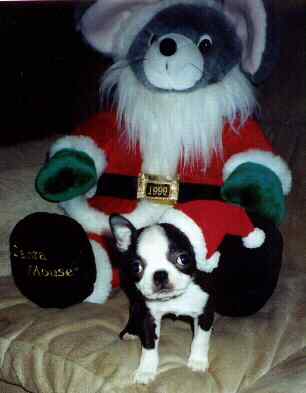 Even at 16 weeks Tera was small. But she had quite a bit going for her,
so we began training her for conformation.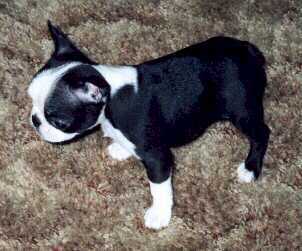 At 6 months, Tera would stack nicely, but we could already tell she didn't
enjoy it. She absolutely would not put her ears up in the ring. She would
also tuck her head down, giving her a very dejected and miserable appearance.
As obvious as it was that she really did not enjoy showing, we had to at least try.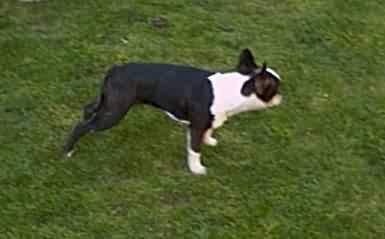 click on Tera's picture below to see her pedigree.
Tera has also been:
CERF tested clear
BAER tested hearing
OFA Luxating Patella tested clear
Copies of her certificates are on her pedigree page.
On July 2nd, 2001, Tera was introduced to a beautiful boy named
CH Advantage-Apogee (aka Spot)
and on August 30, she had her first litter of 6 gorgeous girl babies (4 survivor's).
If you click on her picture below, you can see
her litter of babies
Since Tera loathes showing, the only alternative left is utilizing her ball fetish. I have never once seen her more than 2 feet away from a ball, and she adores playing fetch.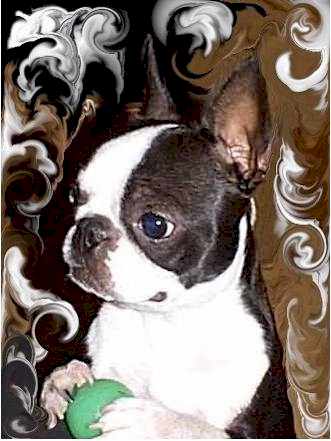 Finally, the "ultimate" ball for Tera! And I don't even have to throw it!!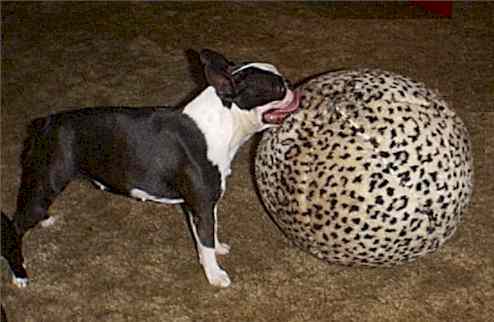 As always, Tera is never very far from a ball.